F1 themed big 3-0 cake
Mike turned 30 back in June, and cake-wise, this was an occasion I was slightly apprehensive about. I had decided back in March that I was going to organise a surprise birthday gathering for him. You'll have to get comfortable for this one and maybe make yourself a brew - it's going to be a long winded post as I really wanted to capture everything that happened for reasons that will later become apparent!
To cut a long story a little bit shorter, I organised a meal at Las Iguanas for Mike and as many of his friends as possible on the Saturday before his birthday. Wheels had been in motion on this plan for some time as I wanted to give myself enough time to plan and make a cake to take along as an additional surprise. As I've mentioned many times on this blog, Mike is often drafted in to help with cake related activity, and jobs such as measuring and making templates, decorating and most importantly, technical advice fall to him. For this I was on my own!
Mike is a complete petrol head so cars had to be the theme of the cake. I toyed with the idea of trying to carve a car but after a few internet searches I realised that being limited in both artistic abilities and patience, that could go badly wrong. I'd seen some number cakes in Rachel Allen's book and liked the idea of doing giant cake 3s and 0s and then making the 0 into a race track and although time consuming, the elements of the cake could be relatively simple and straightforward.
I spent a few weeks ordering and collecting various bits of decorations for the cake. Chequered ribbon to line the base of the 3, black and white sprinkles to cover the 3, chocolate cars for the 'track' (ended up with three different options as I wasn't sure of the size!), sugarpaste in grey, black, white and red, a grass piping nozzle and a giant cake base and board.
I ended up booking the day before the meal off work to give myself plenty of time which in hindsight I am so glad I did! That's where my first slip up occurred - at the beginning of the week I was mid rant about being busy at work, I was all 'yeah and I'm off on Friday aswell so that's a day less to do all this...' - Mike was on to it like a shot and I managed to think on my feet and say that I was just out of the office on a training course. Amusingly, when I asked Mike about this after the event he said he didn't suspect a thing at that point because he had span into an immediate panic that he was meant to have booked the day off aswell so was just relieved when I said I was on a course!
I baked the first cake on the Thursday evening while Mike was out - I don't think I have ever mixed, baked and washed up after a cake so fast and I was on tenterhooks when Mike came back as I thought there was no way he'd miss the smell of cake wafting throughout the house! Luckily I got away with it and little did he know that my car looking all innocent on the driveway was actually packed full of all my baking equipment and ingredients! Good job there's not much danger of him ever going in the kitchen cupboards since they would have been bare!
On the Friday morning I left the house in my work clothes at the usual time, but instead went to my Mum's where I spent the day baking the second cake, carving them into numbers using my pre-prepared greaseproof paper number shapes and icing and decorating the 3. I also made a '0' shaped 'track' out of the grey sugarpaste, little tyres out of the black, red and white rumble strips and a black and white start/finish grid. Devilishly, I went back home at the usual time I would be home from work, pretending that I was then going to stay at my best friend's house. Mike went out before I left, saying he was going to pick something up from the town where my Mum lives. So, half an hour later I set off back to my Mum's only to be met with.... MIKE'S CAR ON THE DRIVEWAY!!!!!!!! What was going on?!?!? I'd left the house with the cake in a cake box on the lounge floor and the kitchen table cluttered with sugarpaste decorations, my mixer, scales and all my baking accessories. There must have been NO WAY he hadn't noticed it! Thinking quickly I pulled over around the corner, made a distress call to the landline and lay in wait until I got the 'all clear' signal. My Mum explained that Mike had called in as he'd needed the loo, and seemed confident he hadn't actually noticed all the baking paraphernalia as he'd been too busy talking (entirely plausible)....
So I got on with it, icing the second cake and assembling the track on top. The next morning presented one of the most difficult decisions I think I'd ever made. Should I make grass to go around the track? I'd bought a grass nozzle especially, but I was so chuffed with how the cake was looking at this stage that I didn't want to do anything to ruin in. A long debate ensued with much scratching of heads and scrutiny of the cake from all angles. Eventually we decided I should do it, and looking back at the pictures now I'm so glad I did - the grass really finished it off, and I can't believe I was happy with the cake without it!
It all nearly came unstuck when the cake box almost DIDN'T FIT through the door of my Mum's car, but we deposited it safely with Mike's parents, who were to drop it off at the restaurant along with some balloons and some suitably embarrassing childhood photos prior to everyone else arriving. Luckily when I got home Mike was in the shower so I was able to put everything back into cupboards! He didn't appear suspicious, and we had added an extra element of deception by telling him we were in fact going to Prezzo with his parents that night. Unfortunately that meant he started going on about how much he 'fancied a calzone' but I just had to hope that he'd forget that particular craving when we arrived at Las Iguanas!
By this point I was feeling pretty frazzled, in the car on the way I was fizzing with excitement and nerves, I'd almost pulled it off! I don't know how he didn't notice. The final straw was when we pulled in to Cheshire Oaks - I'd asked everyone to park in a different part of the car park so he didn't notice any cars but when we arrived the place was packed and Mike usually prefers to park well out of everyone's way, so he was hellbent on parking in the other car park where I knew everyone else would be! Luckily I thought quickly and staged a bit of a 'diva fit' about having to walk so far in the drizzle, and forced him to lie in wait for someone else to leave.... phew! So we got him safely into Las Iguanas (dragging him past Prezzo with the words 'hope you weren't too set on a calzone...') where all his friends were lying in wait for us! It was an amazing moment to walk in and see everyone there, and I'm so grateful to them all for keeping the secret so well. His face was a picture!
Anyway the cake went down pretty well too, it was brought out of the kitchen after the meal and we all had some for dessert. I was sure that he was expecting it, but he said that he still genuinely thought I'd been at my friend's the night before at that point so couldn't believe it!
The final part of the story is that the following weekend, as part of his continued birthday celebrations, we went to Portmeirion for a day out, and while we were there, Mike got down on one knee and proposed! Of course I said yes, once the shock had worn off, and it turns out that the real reason he'd been at my Mum's that day was to ask her permission to propose! I really don't know how she kept a straight face when I arrived back to finish the cake that day. I think our families were both so relieved once the proposal had happened because they'd spent the last few weeks trying to keep that a secret as well as having to deal with me and the surprise party!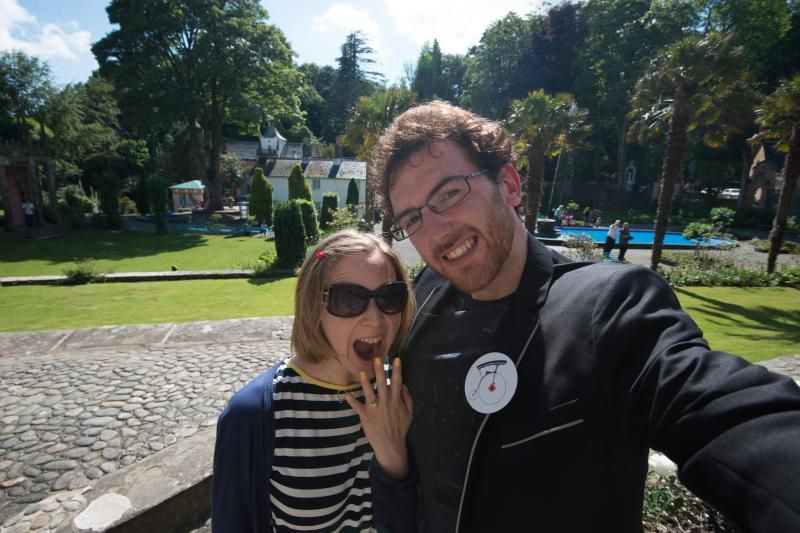 Yes, Mike IS dressed as Number Six from The Prisoner, in case you were wondering. We're just that cool.
Although this is a great story to look back on, I can't help but wonder if it's a worry that we're clearly so bloody good at lying to each other!