Margarita Drizzle Cake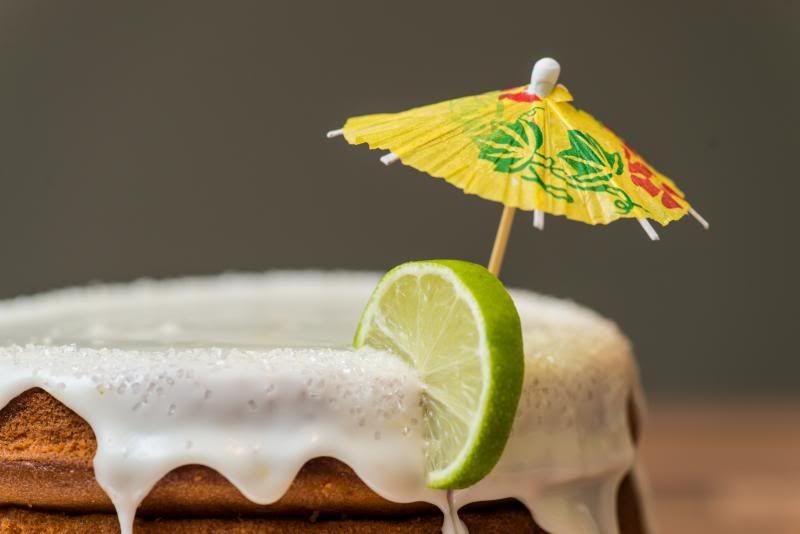 The theme for the February Runcorn and Widnes Clandestine Cake Club was 'Bake your favourite drink' and almost without thinking I booked my place and declared that I was going to make a Margarita cake, since that it is indeed my current favourite drink.
I made a
Margarita cake last year
which was my own creation, so I rather lazily assumed at first that I'd do the same thing this time, but when I re-read my post I realised that I had said I wanted to make it again but in a more dramatic fashion next time, since that seemed fitting for such a glorious cocktail and I was inclined to agree with myself. A one layer sponge cake simply would not do!
There is a disappointing shortage of tequila fuelled cakes online, but luckily Lily Vanilli was on hand to help me out, as her book Sweet Tooth contains a recipe for a Margarita Drizzle cake. I faffed about for days trying to decide what to do - I was initially a bit put off by it because it just looked like, well... too much cake. I'm sure there will be people reading this throwing their hands up in the air and questioning how that could ever be possible, but seriously - there's no frosting between the layers, or on top, or on the sides... apart from a drizzling of syrup, it's just cake - and three layers of it at that.
In the end I decided I should try it out, in the interests of trying a new recipe (and a new book, it was to be the first thing I'd made from it) and reasoned that I could drizzle a layer of glace icing over the top to quell my 'too much cake' fears and because I also had a fiendish idea for decoration.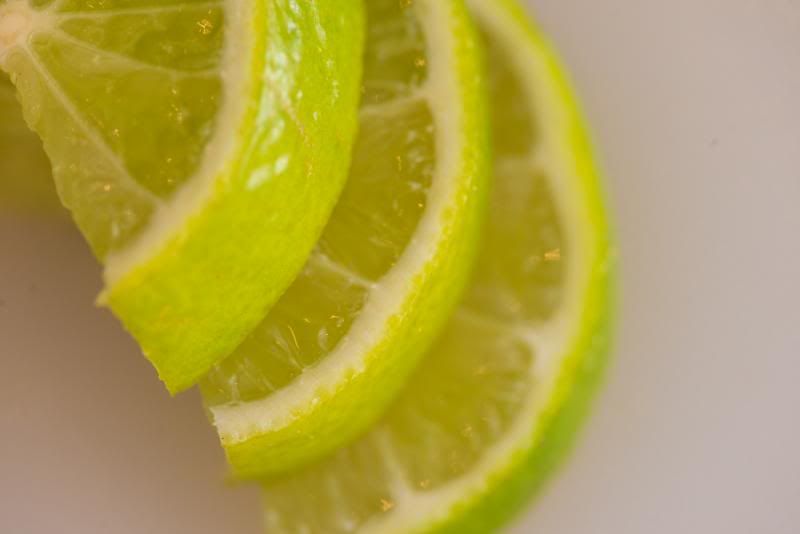 Fiendish idea for decoration
And how glad I was that I did! After I'd made up the cake batter I stood marvelling at it for a while before putting it in the oven as it was the silkiest and most delicious looking batter I have ever seen! Admittedly I done the exact same thing a few weeks earlier with another layer cake and that didn't turn out quite as well as I'd hoped, so I exercised some caution with my glee ... but the joy continued - I was hanging around the oven like a woman possessed again due to fear of sinkage/temperature fluctuation - the cakes rose in the most amazingly perfect domes! I'd never seen anything like it... unfortunately by the time they were ready they had gone a bit pointy and wonky but still - I was seriously impressed!

Too much cake? / silky batter / pleasing domes
Once your cakes are out and cooling you turn to the tequila syrup and I was slightly alarmed by the amount of tequila involved - 300ml of the stuff, getting on for half a bottle! Half of the tequila is boiled while making the syrup but the rest is glugged in after, so it's pretty potent. I couldn't get my syrup to thicken up for some reason but I carried on anyway and sloshed it all over the cakes while they were still a little warm.
When they were completely cooled I levelled the tops and stacked 'em up. The next day I made up a glace icing using orange juice and drizzled over the top. My fiendish idea for decoration was to sprinkle the edges of the cake with sugar sprinkles to look like salt, and stick a slice of lime and a cocktail umbrella in the side to make it look margarita like! I just wish I'd had some straws!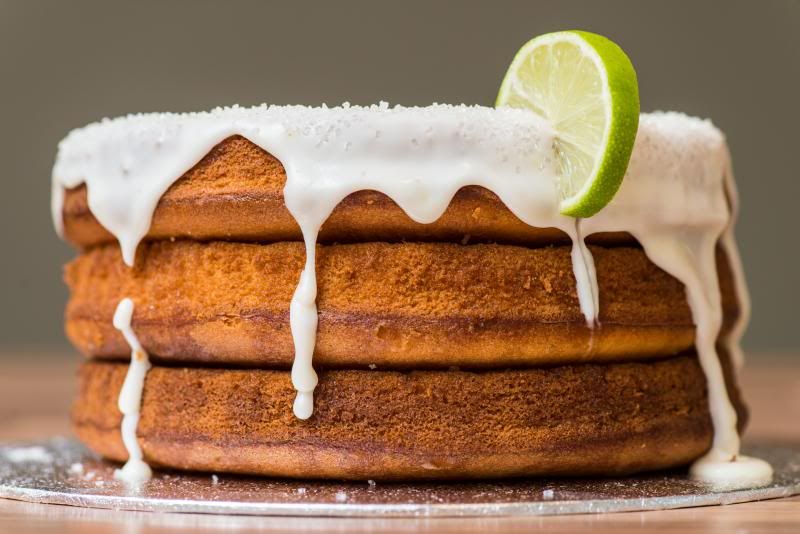 Just realised we never actually got a picture of the finished cake with the umbrella, oops!
The reaction from the cake clubbers was positive and I have to say, this was one of the best cakes I've ever made. The cake was light, fluffy and moist and I can entirely see why there was no icing on the original. I'd still add icing if I was making it again though, as I think it just adds a little bit extra especially with a cake of this magnitude, and it gives it the finishing touch decoration wise, too.

I would highly recommend you make this cake, here is how!
450g plain flour, sifted
1 tbsp baking powder
1/2 tsp salt
120g unsalted butter at room temperature
300g caster sugar
finely grated zest of 2 limes
4 large eggs
300ml whole milk
For the syrup:
225ml water
375g caster sugar
300ml tequila
Juice of 5 limes (approx 100ml)
Preheat oven to 180c and grease and line 3 x 18cm round cake tins. Stir together the flour, baking powder and salt, and set aside.
Beat the butter and sugar until light fluffy. Beat in the lime zest briefly.
Add the eggs gradually, beating just to incorporate. If the mixture starts to split, add a tablespoon of flour. Add half the dry mixture and beat to combine. Slowly add the milk, then the remaining dry ingredients. Beat all together for 1-2 minutes.
Divide the mixture between the tins and level out. Bake in the oven for 25-30 minutes, or until firm to the touch and a skewer inserted into the middle comes out clean.
Remove from the oven and leave to cool in the tins for 10 minutes, before turning out onto a wire rack placed over a baking tray. Prick each cake all over with a cocktail stick.
Now make the syrup. Heat the water, sugar, 150ml of the tequila and the lime juice in a medium sized, heavy bottomed saucepan over a high heat, stirring continuously, for 15 minutes, until you have a thickening syrup that is just starting to colour. Turn up the heat briefly so the mixture bubbles up before turning it off. Pour in the remaining tequila.
While the syrup is still hot (but not boiling), drizzle it all over each warm cake, making sure you cover all sides, and keeping some back to serve with the cake. Let the cakes soak up the syrup, then drizzle any excess over again.
When cool, stack the cakes up one on top of the other.
The original recipe didn't use icing, so I mixed the juice from 1 orange (about 3 tbsp) with icing sugar (about 225g) until thick and smooth, then slopped it over the top!
I made this back in February but now that the temperature is rising and the sun is starting to shine I think I need to make it again!