Rhubarb and Almond Loaf
I made this cake last month and looking at it now, I really want to eat it again because nothing says autumn to me like a golden loaf cake with a smattering of almonds and hint of spice.
It was a last minute bake for Mike's Dad's birthday, which was the day after we got back from our France holiday. I'd almost written off being able to make him something this year, but when we got back my Dad had left us some goodies from his garden and allotment and amongst them was a bunch of rhubarb. I'd barely unpacked my suitcase before I was thinking about what rhubarb-based cake I could make!
As I was pushed for time I settled on a rhubarb and almond loaf cake from the Hummingbird Bakery Cake Days book. It was a good cake, but I was slightly disappointed with the rhubarb content and kicking myself for not listening to my instincts! You stew 4-5 stalks of rhubarb, but then when incorporating it into the cake batter the recipe just calls for 100g of it. I had WAY more than 100g of it, but dutifully measured it out and added it. Even though I thought it looked like a stingy amount in the bowl, panicked thoughts of soggy cake and sunken fruit were flying through my mind so I went with it.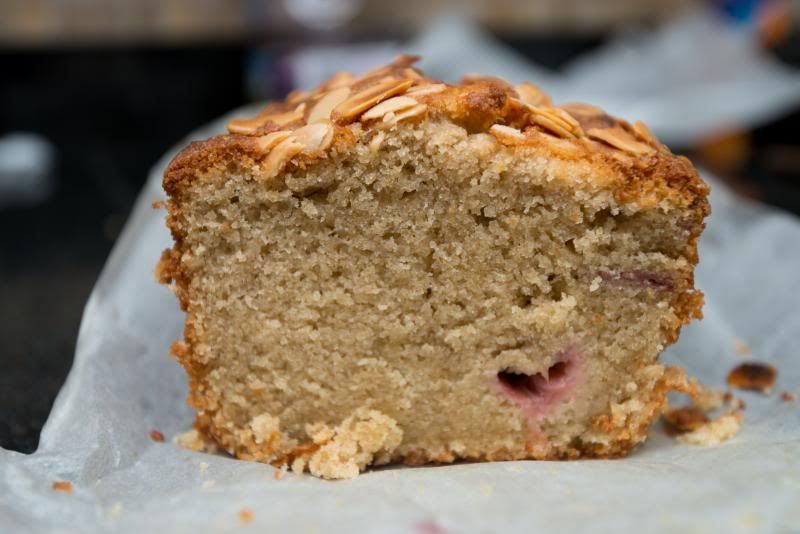 Mike wasn't too bothered as it meant he got to eat a giant bowl of leftover stewed rhubarb which he very much enjoyed! But when we came to cut and eat the cake I was a little disappointed in the rhubarb to cake ratio. That said, I'd definitely make again as it tasted great, perfect Autumnal cake! The photos are a bit scant as we hardly had time to take any pictures, and just managed a few snaps after it had been cut.
I won't reproduce the recipe, as a quick google revealed it's already knocking about in many places (
here
and
here
are examples). Despite the stingy rhubarb content, Hummingbird comes up trumps again!