Baileys and chocolate cheesecake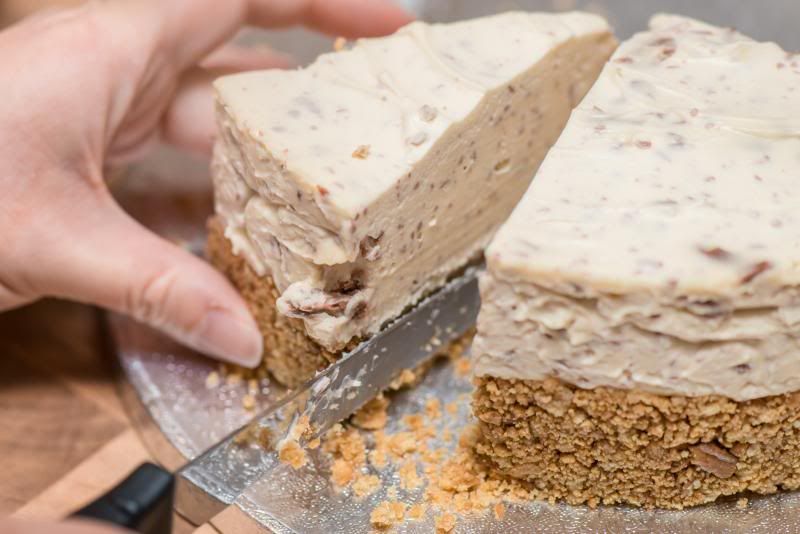 Just a really quick post about this all kinds of amazing Baileys and Chocolate Cheesecake I made back in September. I've been wanting to expand my dessert repertoire and I think a no-bake cheesecake is one of the best desserts in existence - not only is it super easy to make, I don't think I've ever met anyone who doesn't like cheesecake so you really can't go wrong.
This one from the Caked Crusader
had been burning a hold in my To Bake list for a few months and I decided to give it a whirl when we had some friends around in September (yep, that's how behind I am here!).
Due to my
greed
good hostess skills I didn't get any picures of the fully formed cheesecake, but I'm sure you get the drift here. My tin was definitely slightly too small, since the biscuit base to cheesecake ratio is a little off - not sure they are supposed to be quite 50/50 but to be honest I think the base is the best bit. I always eat the top bit and save the base for last!
This was a brilliant dessert - the cheesecake was lovely and creamy with a hint of the Baileys and the chunks of Flake added to the texture and gave nice little chocolatey hits. I am definitely making this again, I think a brilliant one for Christmas too.
I've also just remembered that my best friend and I were recently drooling over the Baileys flavours and I think adapting this using the orange truffle flavour would be genius! And that has also given me renewed devastation at the demise of the mint chocolate flavour Baileys, mint chocolate Baileys cheesecake would be amazing!