Kim vs Novelty Cakes Round 2: Chocolate Hedgehog Cake
The
Runcorn and Widnes Clandestine Cake Club
celebrated its first birthday in August and the theme was a birthday party picnic! My thoughts immediately turned to my birthday parties from when I was little. My Mum had this book when I was little with loads of ideas for food and cakes for kids birthday parties and I always used to look at the hedgehog cake in there and think it was amazing. I never asked for it - not really sure why - but I always wanted it and unsurprisingly never got it! Hopefully a picture of the page itself will follow, we are trying to dig out the book!
My
Rachel Allen Cake book
had been sitting on the shelf gathering dust for ages and I knew it contained a chocolate hedgehog cake, so I decided that HAD to be the one to make. I was apprehensive, as the
Great Sausage Dog Cake Saga of 2011
took its toll on me, Mike, and our relationship in general and so I had pretty much sworn off novelty cakes. However, one of the things that's ace about Clandestine Cake Clubs is that you can try new things without worrying that they will go wrong - OK, so you don't want to serve up a rotten cake to CCC members, or have to turn up empty handed, but at least you know you'll be greeted with sympathy and suggestions for next time rather than having to disappoint someone on their birthday, anniversary or wedding day.
So the cake got made - I couldn't find a pudding basin anywhere but managed to get a 3 litre pyrex bowl and I was worried that it hadn't risen properly/I had just generally messed it up but when I put it together realised that the bowl was just excessively large. The cake was pretty burnt I think - we've not long had a new oven and it's definitely a hotter oven than the last one (or perhaps just actually works properly) so I'm still getting used to temperatures and timings - at least that's my excuse anyway...
I baked the cake two days before the cake club thanks to the top tip I read in Peggy Porschen's book about any cake that you have to carve in any way should be baked the day before you do it. To be honest it wasn't really necessary as the cake didn't take much carving, but it did mean I had maximum time available for decoration the next evening which was good. Mike mysteriously disappeared upstairs as I uttered the words, 'right, better make this hedgehog then' presumably to get out of harms way but then had a pleasant surprise when I calmly called him down an hour or so later to assess the hedgehog.
I have to say, I was well chuffed with him and think he was quite ace. The icing might have been a bit thick because it did start to come away from the sides a bit, but I gritted my teeth and got on with it, ignoring the flashes of Sausage Dog looming in my mind! Other than that though, the icing has got to be the nicest chocolate buttercream I've ever tasted - which is a good job, because there's a lot of it! And it also made up for the fact that the cake was slightly overdone.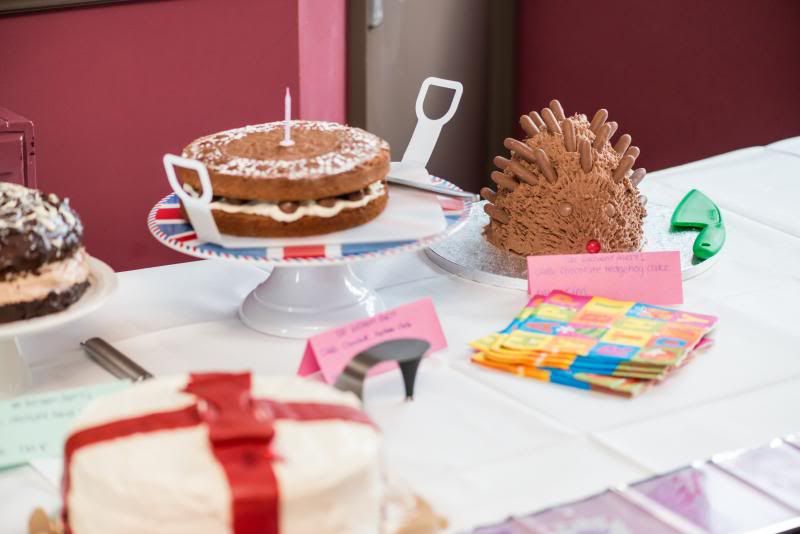 Nervously awaiting his fate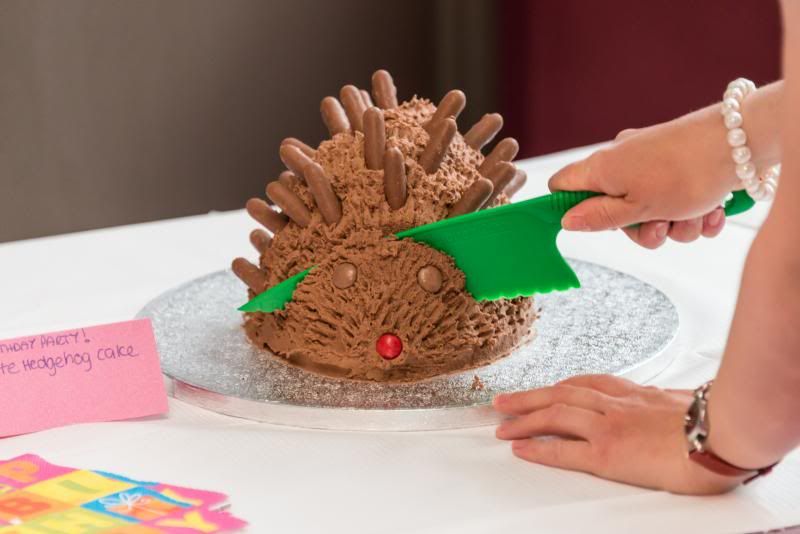 Go for the head first - it's more humane...
It was pretty difficult to watch him being sliced open and devoured at the cake club as I had grown quite attached to him. Definitely one to bear in mind for future birthdays, it's got to be one of the easiest novelty cakes out there so it's a great one to start off with.
Here's the recipe from Rachel Allen:
For the cake:
175g butter
175g caster sugar
3 eggs
2 tsp vanilla extract
175g plain flour
2 tsp baking powder
25g cocoa powder
2 tbsp milk
Icing and decoration:
125g milk chocolate
225g butter
450g icing sugar
25g cocoa powder
2 x 125g packs chocolate fingers (I actually used a pack of mini chocolate fingers which were the perfect size for spikes!)
1 cherry, smartie or M&M - whatever colour you want his nose to be!
1. Preheat oven to 180c. Grease the inside of an ovenproof bowl (needs to be 2.4 litre or 4 pint capacity, and 23cm diameter) with butter and dust with flour.
2. Cream the butter until soft, then add sugar and beat until light and fluffy.
3. Whisk eggs and vanilla extract together, then gradually add them to the creamed butter mixture, beating throughout. Sift together the flour, baking powder and cocoa, then fold gently in to the rest of the mix, add the milk and mix gently to combine.
4. Pour the mix into your prepared bowl and bake for 50-55 minutes until the cake is springy to the touch and skewer comes out clean.
5. Cool in the tin for 5 minutes, then turn out onto a wire rack to cool completely.
6. To make the icing, melt the chocolate in a heatproof bowl over a pan of just simmering water. Remove from the heat and set aside.
7. Cream the butter until soft, then sift in the icing sugar and cocoa powder and mix. Pour in the melted chocolate and beat in until combined. Taste it, it is YUM.
To assemble your hedgehog...
1. Place the cake domed side down on a work surface, and level the top if you need to. Spread a bit of the icing over the flat top of the cake, then cut it in half down the middle so you have two half domes.
2. Sandwich together the sides so you have a rough oval shape, then spread a bit of the icing onto a large plate or cake board and place the cake on top.
3. Spread the icing all over the cake, and shape a face/snout for the hedgehog at one end. Use a fork to give a spiky texture to the icing.
4. Stick the chocolate fingers (halved, if you used the full size ones) into the hedgehog for spikes, pointing backwards. For the eyes the recipe suggests sticking chocolate fingers in, but I used two of the M&Ms. Stick your cherry/smartie/M&M/whatever on for the nose, and voila! Now all you need to do is wrestle with your conscience to cut into him...
I'd definitely recommend this Rachel Allen book if you are fancying taking your first steps in novelty cakes. There's lots of other great looking recipes in there aswell, but the celebration and novelty cake section is particularly good with clear instructions which is great for someone like me for whom novelty cakes are particularly terrifying and temper-testing!