Mississippi mud pie
I cannot believe how quickly this year is going, it doesn't seem like very long ago that I was posting my Christmas bakes (although to be fair, with my turnaround time it probably wasn't!) and now we're on to Mike's birthday which means we're halfway through the year!
Mike's birthday is always another good one on the cake calendar but this year I decided to not bake him a cake and instead, to bake him his favourite ever dessert... Mississippi mud pie! I only found out recently that it was his favourite because Tesco have started stocking it again and he almost collapsed with excitement when he found this out. It's not something you often see on dessert menus or in shops so I hadn't realised he was such an avid fan.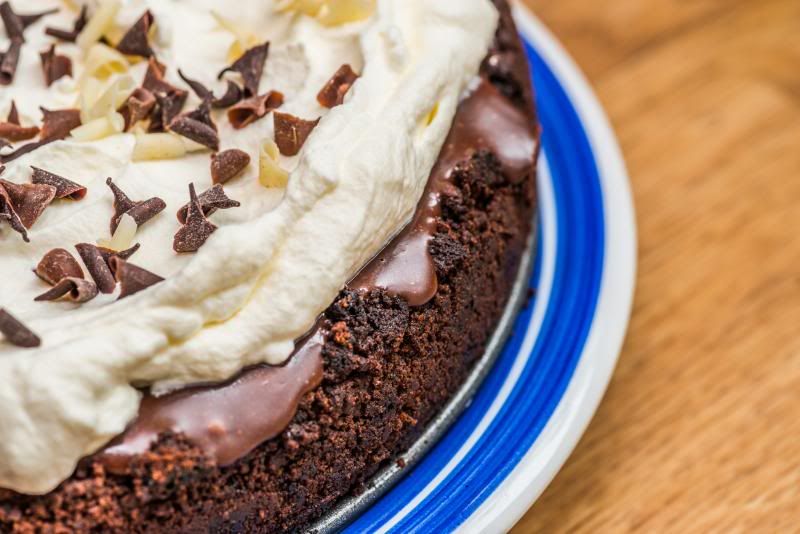 The fudge sauce lurking under the cream!
I set about scouring for recipes and wasn't even sure what it was meant to be or look like to be honest. There seems to be a lot of variation in recipes, with some being topped with cream, some having an actual pie crust and some even containing coffee! In the end, I decided to go with a recipe that seemed the most similar to Tesco's version (because that is definitely the best to him!) which was
a Simon Rimmer recipe
that I came across on
Hungry Hinny's blog
. It got a thumbs up from her and it had a Bourbon biscuit base so I thought it would do the trick (just had to look up the
Masterchef Synesthesia
again after typing 'biscuit base' - it never gets old!).
Actually keeping this a secret from him was very difficult, because I find it very hard to keep a secret anyway, but also because he was with me when I went shopping for the ingredients! I was worried the two packs of Bourbons and excessive amounts of cream would give it away, but luckily for me he doesn't have much of a clue what ingredients go into things so I was safe! I did think he would crack on when he started greedily scanning the dessert fridge for Mississippi Mud Pie but he never twigged - thankfully it was out of stock...
I was a bit surprised at the small quantities of ingredients that went into this, and if the recipe hadn't come recommended I would have started to panic. Just two eggs (the Hummingbird's version had 5 I think!), and 85g of sugar and butter for the filling?! So I started off anxiously (when do I not?!). I did think there could have done with being a bit more butter in the Bourbon crust as it was only just binding together and I found it hard to spread it up the sides of the tin.
I definitely think I baked it for too long - I checked it after 40 mins (recipe said 40-50) and it was clearly overdone and cracked/sinking in the middle. I was starting to feel a bit crestfallen (especially when my Mum turned up and said 'is that what it's meant to look like?') but the appearance of the chocolate fudge sauce pulled me right back up again, it covered and evened the pie well. The other issue was I wasn't sure if I would be able to get the sides of the tin away without the side of the pie falling apart! In the end, I ran a spatula around the outside to loosen it and hurled it into the fridge overnight.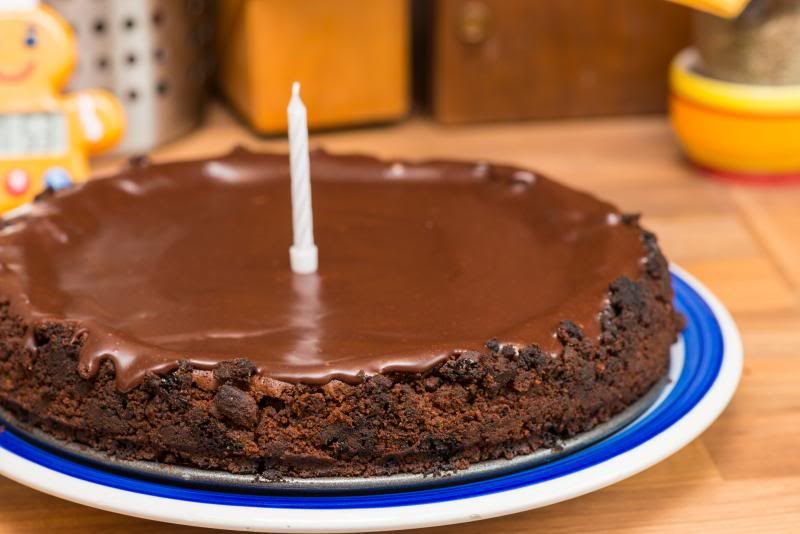 Pre cream... actually didn't think it looked too bad in the end
The next morning, I whipped 350ml of whipping cream, spread it over the top and topped with chocolate curls.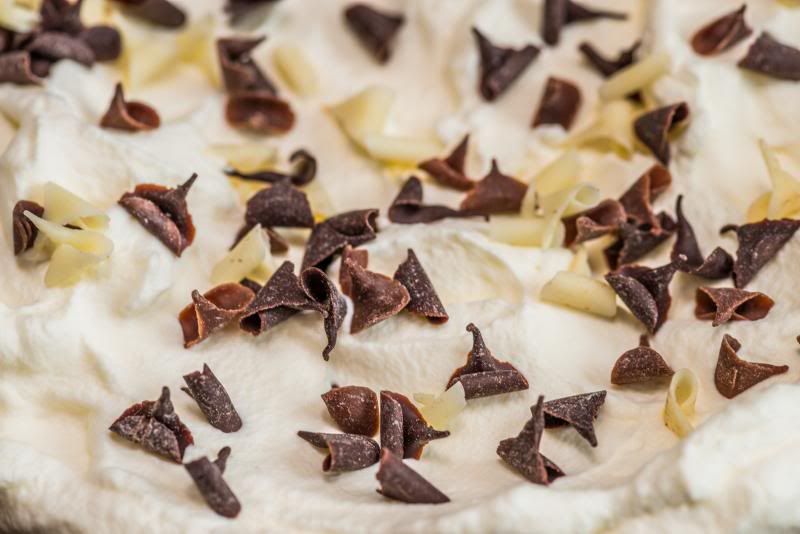 Love the colour of the curls against the white of the cream
Birthday boy was so pleased with it, and had no idea that it was what I was making! I only had a small taste as I don't really like chocolate puddings, but I did think the filling was on the hard side so I would be tempted to give this another go with a watchful eye the cooking time. It looked great too, I've been wanting to try out more non-cake based bakes and desserts and this is another one to add to the repertoire!
It's also worth checking out the fudge sauce bit of the recipe in it's own right, even I was spooning the leftovers out of the pan!