Coffee, maple and pecan cake
This cake is so good that I've made it three times in the space of 10 days!
I discovered it at at work a few weeks ago - a colleague had baked it for someone's leaving do and when she told me what it was I thought, 'oh, sounds alright' but when she took the lid off the box and I was punched in the face by the most delicious smell of coffee mixed with a hint of sweetness, I knew that I was in for a treat!
And oh how I was! It was such a light cake, with a big coffee kick that was balanced perfectly by maple syrup and coffee frosting. You know it's a good one when the whole room goes quiet as everybody tucks in, apart from the occasional 'ooh' and 'mmm'. I knew I had to get the recipe and somewhat surprisingly, it was from
the ocado website
.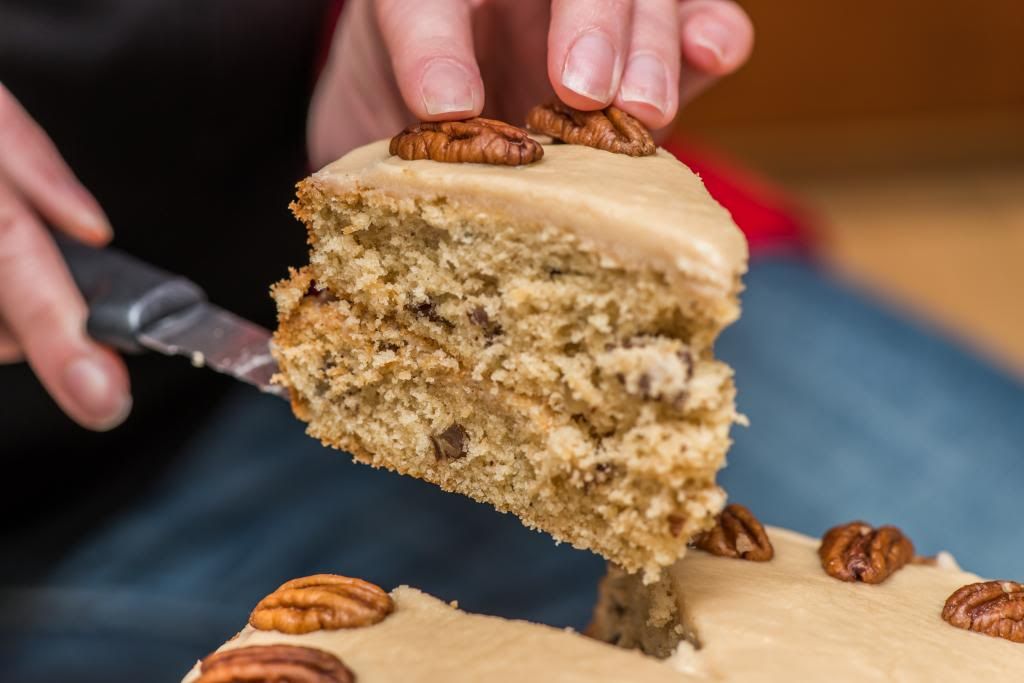 Yep.. definitely not enough frosting in there!
I knew exactly when to make it, too - the theme for the
Runcorn and Widnes Clandestine Cake Club
last month was Love at First Bite and I decided that this cake fitted the bill perfectly. I had a practice go at it and realised that my colleague had doubled (possibly tripled) the original recipe as hers was humungous, but following the recipe I got a nice modest sandwich and decided to just double the frosting amount next time, as it was a bit scant the first time. The best bit about making this was greedily smearing frosting onto the spare bits of cake after I'd levelled it off... hmm on second thoughts maybe that's why the frosting was a bit scant! The first cake was dispatched to my Mum's workplace and reports back were good.
So, the second outing was to the
Runcorn and Widnes CCC
. Definitely better with double the frosting! It was so nice to overhear positive comments about my cake at the meeting and someone asked me for the recipe which always puts a smile on my face! You can
read the write up for the event here
.
Finally, it got a third run out last weekend. Mike's Mum retired recently and we were going to their house for the traditional 'celebratory buffet' and so I decided she needed a cake. And I knew this was a good one so out it trotted again, this time with some quite poorly iced writing on! I don't know what it is with writing icing, it gives me the shakes and robs me of any confidence in my ability to spell! I had to trace the letters with a skewer first (yep so there's really no excuse for it!) and even then suddenly the words didn't look quite right... they were though, so all was well.
So after three successful goes with this cake I can most definitely recommend it, lovely, easy, and quick cake to throw together.
You can find the recipe here
. I think I will retire it for a while though now, I've also got another coffee cake to post about so that's probably enough for a few months at least! The recipe is online here - I would definitely double the frosting though, you need enough for a good slathering plus extra to gobble down with the left over cake top!