Matcha and pecan cupcakes
Happy New Year! Hope you had a wonderful Christmas and your 2013 is being good to you so far. I've been rather quiet on the blogging front again lately - I just never can get into the swing of things anymore. I'm planning some big blog changes this year, but knowing me it will take the best part of the year to get anything sorted, so I will soldier on for now with sporadic posts about things that I baked months ago and are now totally unseasonal. These are from September....
Ever since seeing the Matcha Chocolate cupcakes in the Lola's book, I've wanted to get my mitts on some matcha tea. For some reason I had never been able to find any that was cheap enough to justify buying. So I was happy to pick up some cooking grade matcha tea when I was at the
Cheshire Food Festival
in September!
I also bought a matcha cookbook at the same time and saw a recipe for Matcha and Pecan cupcakes, and since I already had a spare bag of pecans lying around I thought it must be fate...
I loved the green colour that the matcha gave to the cakes and the topping, but there was something that was just not right about the topping. I did think that 3 teaspoons seemed a bit much to be mixed into 100g of mascarpone cheese, and as suspected it was too much and I ended up using the whole tub of cheese to get it to a spreadable consistency, and even that was saying something. Tasting it, it was waaay too tea-y and bitter.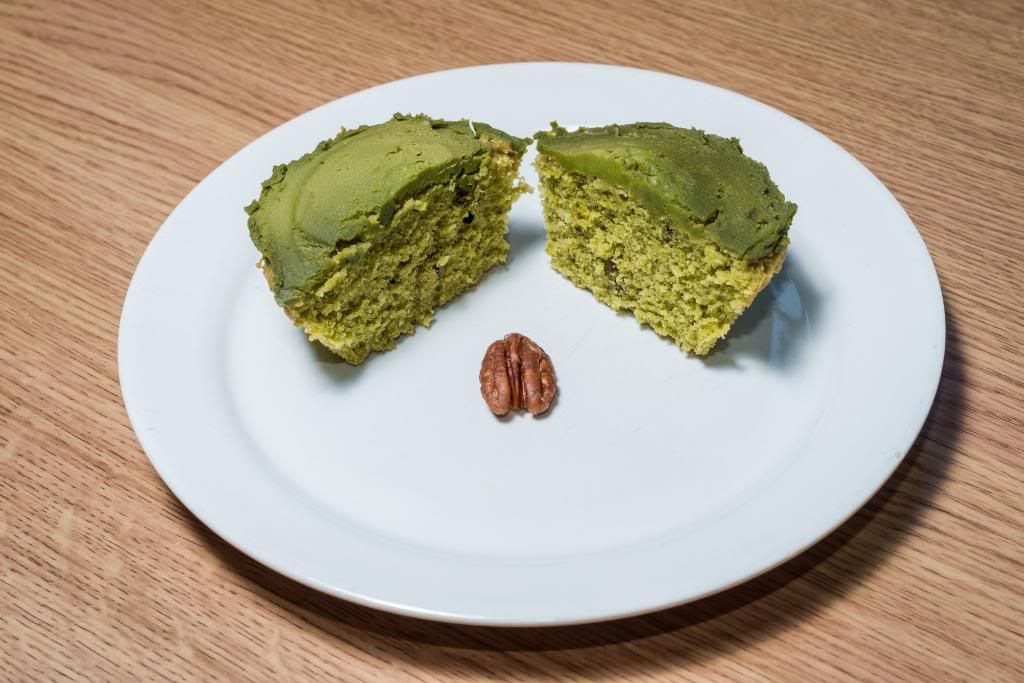 I pressed on anyway because I was pushed for time as we were going out for lunch, so we shared a cupcake before we left as a starter! They were actually quite nice - the sweetness of the cake balanced out the bitterness in the topping, and the cake was light and moist and gently fragranced by the tea.
We were going to sample another when we got in, but the frosting had gone all weird and discoloured around the edges - not sure why this was, whether it was natural or maybe the tub wasn't properly airtight, but either way it put us off from eating any more.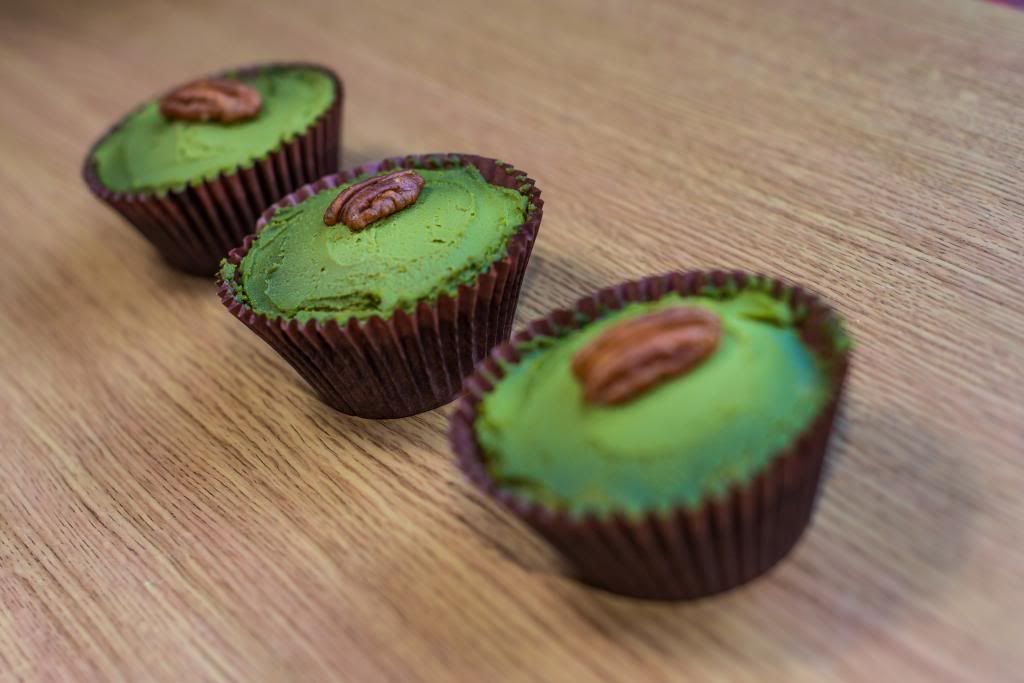 So sadly, my first venture with matcha wasn't as brilliant as I'd hoped, but I'm going to give it another whirl soon, probably with the matcha chocolate ones. Here is the recipe for these if anyone fancies giving it a try (and why wouldn't you, after my glowing review?!) or telling me what the hell is up with the recipe...
175g self raising flour
175g butter
175g caster sugar
3 large eggs
3 tsp cooking grade matcha powder
75g pecans, chopped
100g mascarpone
3 tsp cooking grade matcha powder
12 pecan halves
1. Preheat oven to 180c. Beat together the cake ingredients (except the matcha and nuts) until smooth and fluffy.
2. Fold in the matcha and chopped nuts.
3. Divide between 12 muffin cases and bake for 15 minutes, until risen and firm to the touch. Leave to cool.
4. Whisk the mascarpone and matcha powder together until smooth.
5. Spread over the cakes and top with a pecan half.
I wish I'd used the Lola recipe for my first go with matcha, so that's the one I'm going to be trying next. Please let me know if you have any good matcha recipes!